am in a pensive mood, (the usual state of self). deep in thoughts with a tinge of sadness. always daydreaming, i have created a wonderful world in my mind where am genuinely happy. life is better in that world, well at least for me.
no hi's, no hello's, no how are you's – nada, zilch, nothing.
and another thing – friends???? bless me… this is a disaster waiting to happen. am mentally kicking my butt for getting myself into this pseudo-thing. :p need to get out of it – fast! before it starts destroying what i have invested for myself already – the  strength to make my life less miserable than it already is. 🙂 so this is me, trying desperately – lessening the misery of my life. remove all the negative energies….. bring in the yins – or is it the yang? whatever! you know what i mean.
after work yesterday, i felt like…. (drumroll please) shopping! i saw a dress at morgan, went in and nearly peed on my pants when i saw the price -AED645 for a dress???? a dress which will obviously be phased out of fashion sooner or later. no f*cking way!!!! am not into signatured/branded clothes. it will go out of fashion anyway, so why splurge too much on that? i suddenly missed "DIVISORIA" which is a shopper's haven in the Philippines. My french-speaking friend and her husband confessed that though they live the high life in France, they are always looking forward to their visit to the philippines to shop and drop in Divisoria and Greenhills (both a shopper's haven). Everything's cheap there, it's like KArama here in Dubai but with cheaper prices, more choices and better quality. Now I suddenly have the itch on my feet to go back to the Philippines to shop. 🙂 So anyways, going back to Morgan – after mentally calculating how much AED645 is into peso (Php7095 roughly, and don't kid yourself – of course I used my phone's calculator), with herculian efforts that only i can manage – i dragged myself away from that dress and prayed to all the gods and goddeses of fashion that it will be on a 70% off sale soon. I bought a 16 dirhams blended chocolate frapuccino instead in starbucks. That's the only thing I can splurge on at the moment. Poor me.
On the way home, got a call from denden – "Madinat at 11pm, see you there!" – which practically left me with no choice but to say – OK. Not that it was hard for me to say those two letters, but from time to time I would love to be asked if I want to go there or someplace else – not that I didn't want to go to Madinat, this is just me being a diva. So, the supposedly quiet Thursday evening turned out to be a hip-shaking-ala-shakira-dancing on the dancefloor of jambase. And an hour or so at barzar to give rest to our tired feet and legs. Of course pictures were taken.
It was a fun night. Specially when we were about to go home (always at the last minute), we met an English lady who practically wanted to adopt us – all three of us. Haha! She was looking for "acceptable" guys for each one of us in MAdinat. Pimping hot mama. Haha! It was a fun night – very very fun!
Right, off to somewhere.
Love,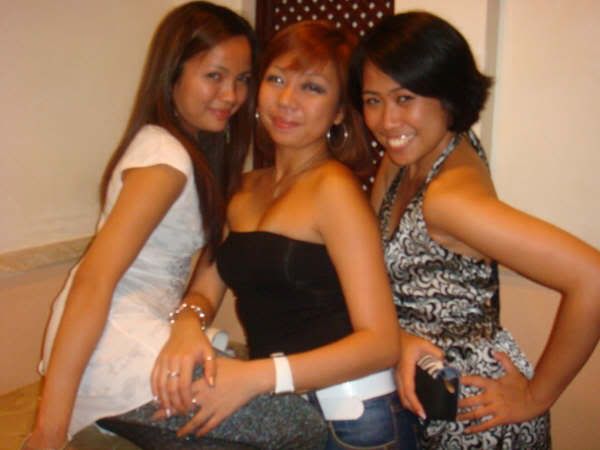 The adoptable girls…. :p